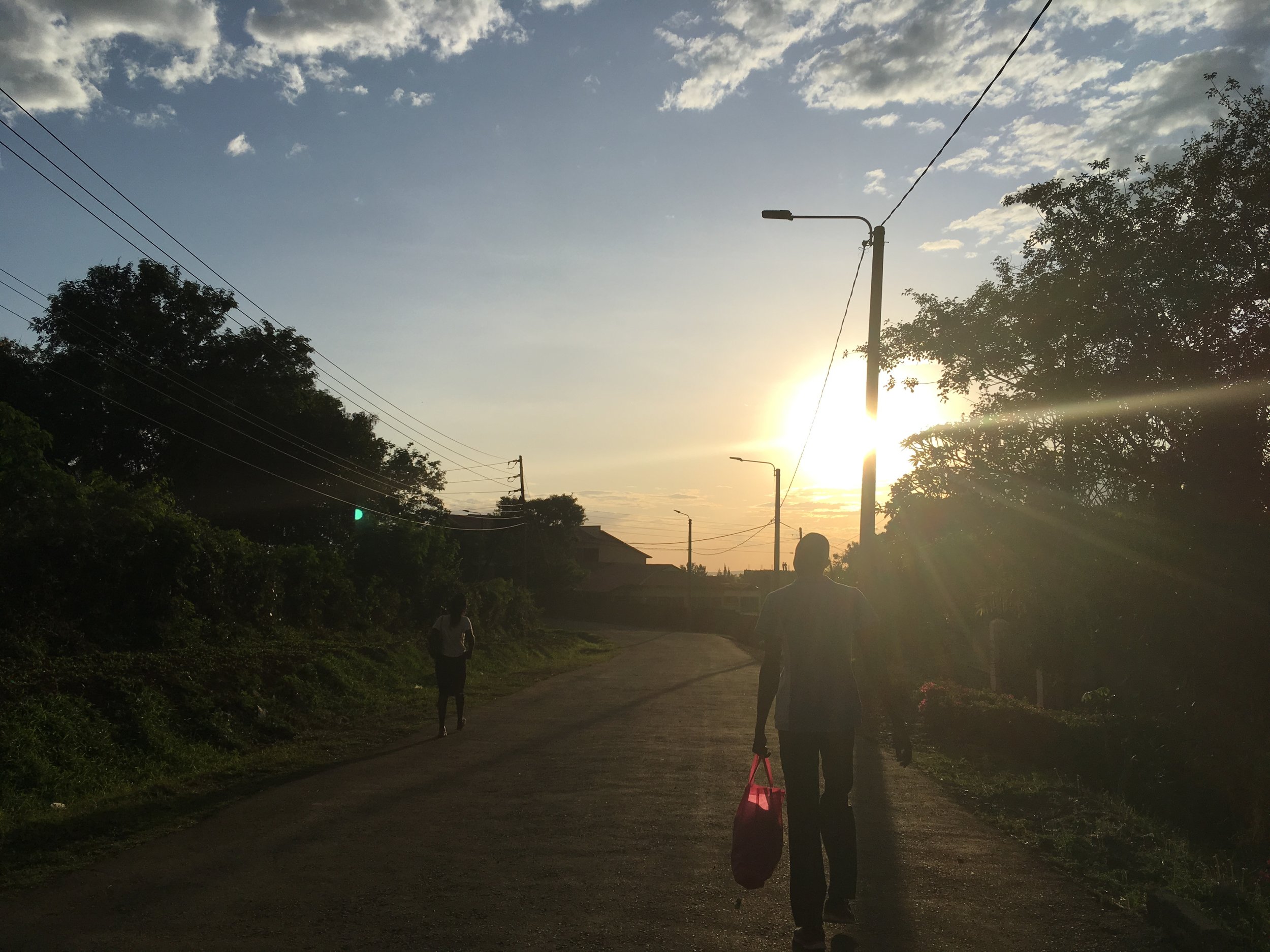 Olima Anditi is not to be found. Everyone has a theory about where the man is currently playing, but not one agrees with the next. His phone was stolen a while ago, making a call impossible. And our car is missing a wheel…
We haven't given up. At the gold mining town on Lake Victoria, another old musician suggested we go to Olima's favorite media — the radio. Blind, traveling all the time, Olima's portable radio is always to his ear. So yesterday we hit Nam Lolwe, a nationally broadcast Luo language FM radio station— one of Olima's favorites.
A little apprehension at the station at first — who are we and what's our mission. Fair enough. "Sir, I don't know how to say this… I'm obsessed with the old musician Anditi, and I came to make a film about his travels and give him some royalties from our last recording."
They're fans of Olima at the radio station — they even have his name on a poster on the wall. Fred, the program manager and a popular host, bright eyed and with an amazing laugh, opened up and we shared stories about the old man. Fred had searched for him once, too, with no luck. "If he doesn't want to be found, he will not be found, but we will know the answer once we call for him on my show."

On the air several times yesterday, the hosts called out for Olima, saying some Europeans are after him. I sat next to Jacob and wondered what kind of problems this would create for him and for us. It's impossible to tell. The only reason I felt comfortable moving in such a public way is that the idea came from Olima's friends, and our Kenyan colleagues all reassured us that it's the best way.
In the moment, with the calls from listeners pouring in, it felt promising. Listeners suggested that he could be in Ahero, Bondo, or Ndori. Others said he was back in Manyattta, the Kisumu slum where we started our search five days ago. There was a very strong lead for Mamboleo — a guy called to say he ate lunch with Olima there yesterday. But when we finally got in touch with the dude, it turned out their lunch date had been a month ago…no wait two months ago? Maybe it was dinner? A bust.
The station agreed to let us know if they got any real leads, and we left for the bus station. Jacob figured that the matatu (commuter bus) touts would know Olima's recent movements. Matatu is his main form of transport, and everyone knows him along the bus line. Steven, our friend and fixer, asked us to wait while he sorted things out in the hectic bus terminal. Soon we were joined by a guy named Marine who crushed my hand in greeting and told us he protects the terminal and the main travel lines. No doubt. He moved with authority and people got out of his way. He knows Olima, and agreed to ask his men to keep an eye out.
Another order of business at the bus terminal — making local copies of the Olima Anditi record we released last year. I want to give copies to the artists to sell themselves, and I want to have the CDs produced locally. Steve, our man, has a guy in the market with a CD burner. We weaved through stalls, got hassled and cajoled, dodged buses with Jamaican sound-system-caliber blow horns attached, and finally made it to a small tin shop with metal grating in front. I looked through the bars and, incredibly, recognized the person sitting behind them — Gill Gucci, a rapper I'd met while filming the first Raw Music episode in Kenya back in 2010/11. Gucci! He'd left the rap game and gone into the CD burning business, finally making a decent living for himself off music. We talked about Total Vibez studios where he used to rap, and he promised to make me some CDs. Check this old post to see Gucci back in 2010…
And so we continue to look and wait and wonder what's going on. It's not normal that it takes so long to find someone everyone knows…